TRIBUTE TO JULIEN J. MEYER
May 30, 1912 - April 11, 1997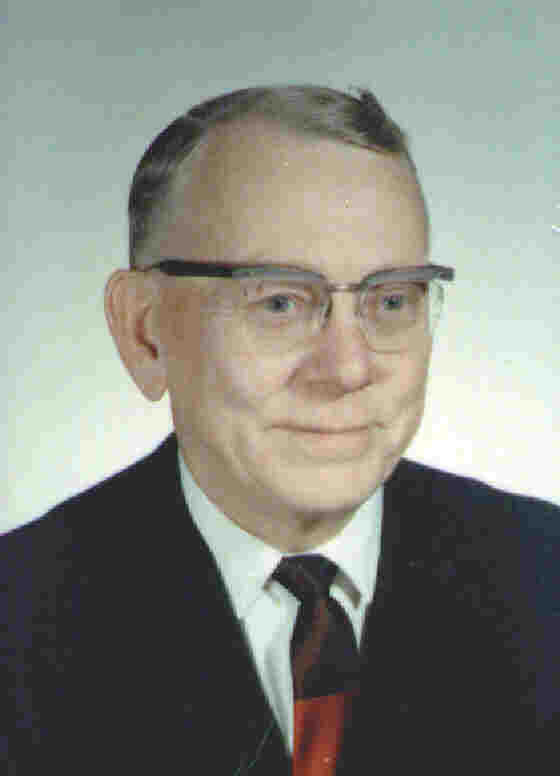 Background:
Julien was born May 30, 1912, near Rosholt, S.D., to Louis S. and Carrie(Simonson) Meyer. He attended High School in Rosholt, graduating in 1930. He attended Teacher School in Fargo, N.D., and from 1931 to 1933 attended and received his bachelor's degree from Moorhead State College. On June 16,1935, he married Amy Elvera Anderson in Sisseton, SD. He taught in Minnesota, Nebraska and South Dakota before moving to Benson in 1945. From 1945 to 1970 he was an elementary school teacher and principal. He worked part time as a engineer and announcer for KBMO radio station in Benson. He was audio visual director for the Benson school system from 1970 to~1975. Survivors' include his wife; three sons, Gary (and Joyce)Meyer of Minnetonka,MN, Dannie and Arlene)Meyer of Roseville,MN and Maynard (and Deb) Meyer of Madison,MN; a daughter, Janet (and Rob) Wilson of Omaha,NE; 11 grandchildren;10 great-grandchildren; two step-grandchildren; three step-great-grandchildren; a sister, Myrtle Malm of Rosholt, S.D.
Julien was active in amateur radio and helped several "hams" get their radio licenses. He received his amateur radio license in 1950 at the same time as his son, Gary. Julien's radio call was W0DYC and Gary's call is W0DYD. Julien was also an early experimenter with amateur television and also very active on both the voice and morse code(cw) HF bands. His son, Maynard, is also a licensed ham with the call letters WA0KNP. His son, Dannie, did not get into ham radio but was a radio operator in the Navy.

Another of Julien's many hobbies was writing poetry that expressed his character and feelings. This collection of his poems will provide some insight into the man, the educator, the father, and husband.
---
1. Click on the titles below to display the poems.

---
Minnesota - The Theater of Seasons
To My Wife
---
 For a history of the Meyer Family and recent pictures, visit brother Dannie's web site at:
http://impresssomeone.com/Album/history.html
---
Visit my ham radio homepage - W0DYD - Gary C. Meyer, Shakopee, MN
http://www.qsl.net/w0dyd
---
Visit my family photo album - Gary C. Meyer, Shakopee, MN
http://www.garycmeyer.com/photos
---
   If you enjoyed the poems, let us know by sending email to:
  The Meyer Family
---